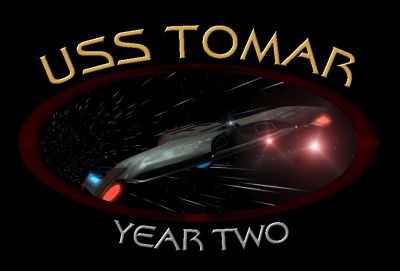 The Tomar Chronicle-Herald
Volume I, Number 2 - June 1, 2002
---
Welcome to the second issue of the Tomar Chronicle-Herald, your newsletter of what is going on with the Tomar simm, Bravo Fleet and Star Trek, along with other issues as needed. As time allows, I'll work on making the Chronicle-Herald better looking and easy to navigate. In the mean time, enjoy.
---
As of June 1st, 2002, We, the Admin Staff of the Tomar will begin to enforce all of the policies and rules in the Manual. This means that all players need to post the minimum numbver of posts per cycle, and also department heads need to submit reports as well. Please contact any of the Admin staff if you have any questions.
Secondly, thank you all for being patient over the past couple of months as I've tried to get my life in order and get things settled. I'm happy to say that I am moved home and that I am in the process of unpacking, but I'm online pretty much every day, so I can keep up now. Expect to see some more posts from me in the near future.
As a reminder, our next story is entitled: Episode 6: Out of the ashes, A King Arises, and has already begun. All In Character (IC) posts should now use the following as their subject line notation:
EP 6 (your character's LAST name): Post Title
As another reminder, Episode 6 is a Joint Mission with 2 other ships, BUT, there will be no combined list, instead, the crews of each ship will stay on their own list, and only the COs and XOs and AGMs will be on the combined list. This will hopefully prevent excessive posts that do not concern the overall storyline to clutter your mailboxes. We'll try it this way and see how it goes. If it works, it may become a new standard for future JMs.
---
Ship's Current Disposition:
The Tomar is about to leave Klach de kel Brakt with the Hegh Leng to rendezvous with the Laffey and begin the mission into Romulan space.
---
Teaser for Episode 6: Out of the Ashes, a King Arises:
Following rumors from Romulan space, the Tomar, along with the IKS Hegh Leng and the USS Laffey (reluctantly allowed by Rear Admiral Shepherd) have been assigned to a Black Ops Search & Destroy mission.
Starfleet Intelligence has heard through the mill that the Romulans are playing with Borg technology, in an attempt to increase the power of their ships and weapons and other technologies. With the current tensions between the Federation and the Romulan Star Empire, not to mention the recent alliance between the C'hakilians and the Romulans, and the fact that the C'hakilians have annex the entire Raeya system, SI is nervous about the Romulans experimenting with Borg tech and then turning it over to the C'hakilians to be used against the Federation and the Klingons.
Hence, this mission.
But, are the Romulans REALLY experimenting with Borg tech, or is this an elaborate hoax to spread out Starfleet's forces?
---
Next Cycle:
The next Posting Cycle is Cycle 24, which will run for the entire month of June. All ACTIVE players will need to post 4 (FOUR) posts minimum. If you are on an LOA, please contatc me so that I know if you still need to stay on LOA status, otherwise, if I or one of the AGMs do not hear from you by the end of the month, you will be placed on MIA status.
All department heads should be submitting their monthly Department Head reports. Department Heads who continue to fail to submit will be reprimanded, lose points, and eventually removed from their positions.
ALL Players need to post the minimum number of posts per cycle. In the case of Cycle 24 (June 2002), you need to post 4 times during the entire mountain. That gives you 30 days to write and email 4 posts to the list. If you post, but don't post the min, you will be put on a Warning status, and moved up and down as appropriate. Please look at the Manual if you have any questions, or email the Admins.

Manual: http://members.tripod.com/usstomar/htmlfiles/simminfo/manual/policies.htm

Try to get into the habit of making your mins or contacting the Admins if you can't during this cycle.
---
Points and Status (Cycle 23):
Here are the Standings as of May 31, 2002:
Characters Status:

Warning of Probabtion Status:
NONE

Probation Status (1st Cycle):
Lieutenant Lamont

Probation Status (2nd Cycle):
NONE

Warning of Removal Status:
NONE

Removed Status:
NONE

CYCLE 23:
ELEVEN Total Players
SIX out of EIGHT active Players posted this cycle.
ZERO out of EIGHT active players made the minimum for this posting cycle (4 posts in 31 days).
6 (Six) IC posts this cycle.

Date ending: May 31, 2002
Results for Posting Cycle 23
MINIMUM POSTS THAT WERE DUE for CYCLE 23: 4 posts
(For a definition and decription of the Tomar's posting policies, please go to the Official Policy Page.)
Name
Current Rank
Total Posts this Cycle
Points Earned
this Cycle
Total Points
Earned
Points to
Next Advancement
Marcus Shepherd
Rear Admiral
1
60
10057
15000 *
MI'Torca
Low Colonel (1)
1
45
3274
6000 *
Lance Foster
Commander
1
80
2461
6000 *
William Patton
Commander
0
0
2856
6000 *
Xavier Thornton
Commander
0 - LOA
0- LOA
2000
6000 *
Jalon Barr
Lieutenant
1
45
1145
1700
Mark Jennings
Lieutenant
0 - LOA
0- LOA
1196
1700
Dionysis Lamont
Lieutenant
0 - MIA
0 - MIA
1086
1700
Joran Sorac
Lieutenant
0
0
1461
1700
Josh Stalker
Lieutenant
1
45
1528
1700
Ian St. Lucent
Master CPO of BF
1
45
3748
4000 *
Note: If an * is next to the number of points needed to advance in rank, then that means that in addition to the approval of the Tomar's Admin staff, the approval of the Bravo Fleet Admirality is required before the rank can actually be awarded.
| | | | |
| --- | --- | --- | --- |
| | Military Organization | Original Rank | Starfleet Equivilent |
| | | | |
| (1) | Raydeen Military | Low Colonel | Commander |
| (2) | | | |
| (3) | | | |
| (4) | | | |
| (5) | | | |
Awards Received

Name

Award Received
Character Awards
None Received this Cycle

SIMM Awards

None Received this Cycle
Player Awards
Post of the Month Patton (March 2002)

Career Service Citation

Rear Admiral Marcus Shepherd (03/2002)

Commander William Patton (03/2002)

---

The 'Travis Hytte Memorial' Ship's
Newcomer of the Month

Ms. April Sorac (03/2002)

---

Task Force Post/Poster of the Month

Commander William Patton (03/2002)

Approved Leave of Absence List

Name

LOA Status
Lt. Mark Jennings
Temporary
Cmdr. Xavier Thorton
Temporary
Missing in Action (MIA) List

Name

MIA Status
Lt. Dionysis Lamont
MIA: Cycles 20, 21, 22, 23
Players with Current Consequences

Name

Current Status
Lt. Dionysis Lamont
Probation (One)
---
LOA Policy:
Don't be afraid to ask for an LOA if you really need one, or if you know you're going to be going away. I'm not going to bite your head off, in fact, most of the time, I'm going to ok it (9 out of 10). It saves me the headaches of wondering where you are, and also helps so that you don't lose points.

Some of you haven't posted, nor have I heard from you about anything.

You need to get in contact with me if you can't post as soon as you are able to post again, or even better, before, use somebody elses email if need be, put please, get in touch with me or one of the other AGMs and let us know. If I don't hear from you, I'm going to consider you MIA, and you'll be removed from the SIMM after so many cycles. If you want to leave the simm, please drop me a note and let me know, otherwise, if I remove players from the SIMM, I have to notify BFJAG, which can cause repercussions on you if you run other characters in BF. Please, be considerate, Thanks.
---
AFY Mailing List:
Everyone should be OFF of the AFY mailing list, UNLESS you are on another ship that is still on it. If you are still getting email, let me know.
---
Federation Times:
Please keep reading the Federation Times (http://www.bravofleet.com/bravofleet/fleet_news.htm) to keep up on what else is going on in BF and Starfleet. Stories here may have some impact on what happens in our SIMM.
---
Bravo Fleet News:
May 19, 2002 - from Fleet Admiral Mike Bremer, CO of Bravo Fleet: Coming off the success of TF21's return, Bravo Fleet is continuing to move forward and grow. In the last month, no less then 7 independent simms have applied to join Bravo Fleet. 5 already have and 2 are undergoing review now.
There's also something else new to Bravo Fleet I'd like to announce. BF192 - Thor's Hammer. A simm group of 12 operational ships, 192 as asked to join Bravo Fleet as an affiliated simm group. BF192 isn't a new Task Force but it's own group, operating under the Bravo Fleet name, using our rules, services, and in our universe...but 6 years behind us. That means, while BF is set in 2378 (the current TNG/DS9/VOY/Movie timeline), BF192 is set in 2372. This adds a whole new dimension to Bravo Fleet, as well as 12 fully crewed ships!
There is more information on the BFHQ. The News page has information, and of course there's a link to to BF192 under the Divisions Link.
Speaking of the News page. I have modified it some. I have added a new section called, 'This Week in History'. In that section you'll find IC and OOC articles from the past. Articles from Enterprise missions while under Kirk's command, to Earth, Klingon, and other races history, even important events in BF's history will be there. This is also were news from the missions of BF192 will appear. On the News Ticker, these stories will show as yellow.
Over all, I think things in Bravo Fleet are going well. We still need you all to vote for BF, advertise, and submit news articles. Keep up the wonderful work everyone!! :)
May 27, 2002 - from Fleet Admiral Mike Bremer, CO of Bravo Fleet: I wanted to share a little news with you all. One of BF's SisterFleets, Epsilon Fleet, has closed. There were several reasons for this, and I have offered EF's members the chance to come to BF to simm. Some are signing up too. I'll be removing their logos from the BFHQ tonight.

May 27, 2002 - from Rear Admiral William Montgomery, CO, Bravo Fleet Tactical Group 192 (http://www.cvaweb.net/tg192): Each week we all CO's receive an email automatically reminding us to vote for BF. And there is a very good reason for this. It is a proven fact that one of the ways in which people find out about Bravofleet, or any other simming groups, is through the use of Top Site Lists. And it stands to reason that the higher we are on those lists, the better chances that interested people are going to visit our site, instead of the site of another group. It really is quite simple :)
But for some reason it appears as though our players, the heart and soul of Bravofleet, are not voting for us on these lists. I spent about 15 minutes today voting on every single list we are on, and checking our position on them. Some lists we are right at the top, which is great! But we've got other groups sneaking up on us, which is not so great. On other lists we are way behind, which means we are potentially loosing players to other groups. But even on those lists, and extra 30 votes would shoot us towards the top.
So, here's what I am asking each CO to do. I would ask that you forward this to your crews, as soon as you finish reading it. This will ensure that everyone in the fleet see's this message.
Now, assuming that the CO's did their part, I'd like to address the crew member for a second. You all are the single most important part of Bravofleet. Without you all, Bravofleet doesn't exist. And personally I think we have a darn good thing going here in BF, and hopefully you do as well. So what I am asking you to do now is to show that pride, and help us out. It'll only take a few minutes of your time, and the results will be incredible. Please follow this link, and take some time to vote.
http://www.bravofleet.com/bravofleet/voteforbf.htm
If you don't have 15 minutes to spend voting, the please concentrate on the links in the "Top Priority" section. This should really only take about 5 minutes.
Now, if half of the CO's pass this email along, and even half of the people that read it actually take the time to vote, Bravofleet should have approximately 375 votes on these lists in the next few days. That would be an incredible show of pride and unity. (of course i"d rather see everyone voting, giving us around 1500 votes, but I am a rather realistic man lol).
I want to thank you all in advance for taking a few minutes to help us continue to bring more players into Bravofleet.
May 28, 2002 - from Fleet Admiral Mike Bremer, CO of Bravo Fleet: I want to thank everyone that's taking the time to vote for BF, pushing us to the top of many lists and getting BF many new members. In the last 24 hours we have received no less then 22 apps, that's up 110% from an average day. BF's record is 47 apps in a day, I'd love to break that! So, I'm asking you all to keep voting. Even if you just have a few minutes, vote for at least the top lists marked 'Priority One' TSLs. http://www.bravofleet.com/bravofleet/voteforbf.htm
And, by the way, Bravo Fleet's been named in "Who's Who on the Web" 5th anniversery edition. The BFHQ joins sites like CrouchingTiger.com, CocaCola.com, DreamWorks.com, u2.com!! I think that's just awsome! From what they told me when the email notification that came in, BF's the ONLY Star Trek RPG listed! :)
Keep up the great work and showing your pride in Bravo Fleet!!
---
Admin Staff Contact Information:
C.J.: cjleblanc@earthlink.net
Brian: bminosh@bravofleet.com
Don: ratliff@tsixroads.com
Kelly: l_coyote_foster@hotmail.com
---
Letters-to-the-Editor:
None this issue, maybe next issue. Send any comments to cjleblanc@earthlink.net
---
Interesting Real-World Newstories:
Tom Cruise Reviving 'War Of The Worlds' (TheWMURChannel.com: May 10, 2002)
U.K. Censors Take 'Star Wars' To Task (TheWMURChannel.com: May 13, 2002)
Original Darth Vadar has Words about 'Episode 2' (TheWMURChannel.com: May 24, 2002)
Homeless Couple Gets Probation in Worcester Tragedy (Firehouse.com News: May 30, 2002)
Court Overturns Law Mandating Internet Filters for Public Libraries (The New York Times online: June 1, 2002)
If you have any news stories you want everyone to know about, please email them to me (cjleblanc@earthlink.net),
and as I will include them in the next newsletter if they are appropriate (age-wise, Remember, this is a PG-13 SIMM).
---
Interesting Links:
The MadCow: http://www.bestcreatives.com/MadCow.swf This is definately a PG-13 (for Language) site!
If you have any interesting ;inks that you want everyone to know about, please email them to me (cjleblanc@earthlink.net),
and as I will include them in the next newsletter if they are appropriate (age-wise, Remember, this is a PG-13 SIMM).
---
Interesting Quotes:
None this month. If you have any that are appropriate, email them to me (cjleblanc@earthlink.net) to be included here.
---
Well, thats all for now, talk to you soon, and thanks for posting,
and helping to make the Tomar the best BF simm here.
---
Click headline for top content from Firehouse.Com
The Web's Community & Resource
for Fire, Rescue, EMS & Safety